8m Intelligent Street Light
| | |
| --- | --- |
| Tipo de pagamento: | L/C,T/T,D/P,Paypal,Money Gram,Western Union |
| Terms of Trade: | FOB,CIF |
| Quantidade de pedido mínimo: | 10 Bag/Bags |
| Tempo de entrega: | 30 dias |
Descrição do produto
Intelligent street lamp is a new kind of multifunctional street lamp.Driven by the policy of smart city life, smart street lamp is more and more popular and accepted by human.This smart lamp has a height of 8m and is mainly made of aluminum.His light source USES LED, modular design, power between 90W and 120W.In addition, its functions include camera, outdoor full-color information release screen, one-button alarm function, IP network active sound box, WIFI function, car charging pile function and environmental monitoring function.
The popularization of smart street lamp has not only accelerated the construction of intelligent urban information, but also brought a lot of convenience to human life and created a lot of wealth.

Function introduction and technical parameters
1.Lamp post:Lamp post total height of 8m, 6063 aluminum material, lamp body is Φ 139 mm, 252 mm .The wall thickness of lamp post is 5.0mm

2.Light source:LED,90W-120W,modular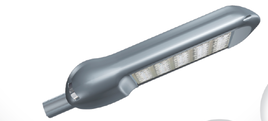 3.Camera :
4 megapixels, infrared hd;
Support maximum 2560x1440@30fps hd picture output
H.265 high efficiency compression algorithm can save large storage space
Support with a built-in light storage capabilities, equipment of no movement when storing the video monitoring scenes, lower frame rate and code rate automatically, achieve the result of saving storage space horizontal continuous rotation, 360 ° vertically - 15 ° to 90 °, without the monitoring blind area;Level of preset speed up to 80 ° / s, vertical preset speed up to 80 ° / s, level at the rate of 0.1 °, 80 ° keying/s, at the rate of 0.1 ° vertically keying - 80 ° / s, support 300 preset position;Support power off memory function, power on automatically return to the state of the head and lens before power off;Support lightning protection, surge protection, surge protection, IP66 protection class.

4.Outdoor full-color information release screen
Small spacing: pixel spacing is 4mm, leading in the industry. Outdoor full-color LED display with high brightness: suitable for outdoor display
Superlarge viewing Angle: no glass design, super-wide viewing Angle, larger visual range of the display screen, clear viewing at any Angle
Intelligent light control: intelligent brightness control system to prevent energy waste and light pollution
Wide use: can play video, picture, text and other promotional materials, wide use
Picture correction: good consistency of color and brightness, no Mosaic phenomenon, true color restoration, stronger picture sense
Remote control: can remotely control the screen to play, more convenient operation
Protection: the three nano protection technology has good protective performance and avoids the impact of dust, rain and other environmental factors on the screen life
Product customization: the structure, display size, and functions can be customized according to customer requirements, which is more user-friendly
Single screen display area (WxH) : 0.512 x 0.896=0.458m squared, double-sided (customized)
Display color: full color (RGB), (H/V) : visual Angle 120 ° 120 ° /
Visual range: 3~30m
Power supply voltage: 85V~265VAC
The whole screen to power: the average power of 400 w/m squared, peak power of 1500 w/m squared working temperature: - 30 ℃ to 50 ℃
Working humidity: 10~99% RH, lamp bead brand: crystal
Provide and install carlette C4 series play box and operating software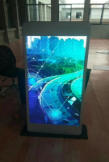 5.Information release screen emergency call function
200w pixel video acquisition, embedded metal riot, support infrared light, support voice intercom, broadcast;Support public network transmission of ehome;1 10M/100Mbps adaptive TCP/IP network interface, size (mm) : 170 (H) *108 (W) *36 (D)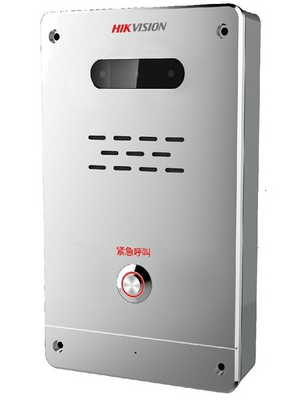 6.IP Network active speakers
1. Integrated wall-mounted design, integrated network audio decoding, digital amplifier and speaker;
2. Adopt high-speed dual-core (ARM+DSP) chip, with startup time no more than 1 second;
3. In-built high-fidelity linear array loudspeaker and stereo class D power amplifier;
The built-in circuit detection function allows remote monitoring of the working status of the loudspeaker and easy maintenance;5. Remote control of terminal support service software to adjust the volume;
6. Standard RJ45 network interface, accessible where Ethernet port is available, and support cross network segment and cross routing.
Power supply, power consumption DC24V, no more than 40W
Network communication protocols: TCP, UDP, ARP, ICMP, IGMP
Audio code MP2/MP3/PCM/ADPCM
Audio sampling, bit rate 8kHz ~ 44.1kHz, 16 bit, 8kbps-320kbps
Signal to noise ratio, frequency response greater than or equal to 90dB, 50hz-15khz (+ / -3db)
Network sound delay broadcasting delay is no more than 30ms
The power of built-in amplifier is 2X30W
Product size, weight 450 (high) x83.2 (wide) x88.1 (thick) mm 2.0kg;

7.WIFI
300M wireless, 5dBi omnidirectional waterproof antenna, outdoor professional omnidirectional wireless coverage
Professional exterior shell design, adapt to all kinds of harsh environment
Independent radio frequency circuit design, improve signal transmission performance, better adapt to outdoor remote, wide range wireless coverage
Automatic selection of appropriate channel, network smooth and stable
The power is linearly adjustable to effectively reduce the interference between AP
Automatically eliminate weak signal devices to avoid dragging down the entire network and improve wireless network performance
Independent hardware protection circuit can automatically restore abnormal AP
Up to 8 ssids can be set, supporting the dual coding Chinese SSID, fashionable and practical
Passive PoE network line power supply, flexible layout point

8.Charging pile:Embedded, voltage: AC220V, current: 32A, protection class: IP54 rated power: 7kW

9.Environmental mornitoring
Temperature and humidity, power supply voltage: 12 VDC, power consumption: 0.5 W, temperature measuring range: 25 ~ + 85 ℃, the temperature measurement accuracy: + / - 0.5 ℃, humidity measurement range: 0 ~ 100% RH, humidity measurement accuracy: + / - 3% RH air pressure, precipitation, illumination, etc
PM2.5: detection gas: PM1.0, PM2.5PM10

Jiangsu chengxu Electric Group Co., Ltd
O grupo dos electrics de CHENG XU co., Ltd foi fundado em 2003. É ficado situado na cidade de Yangzhou, província de Jiangsu China, que é completamente perto de Shanghai. Somos especializados no desenvolvimento e fabricação de iluminação exterior personalizada. Nossos principais produtos incluem iluminação pública, sinais de trânsito, iluminação de túneis, lâmpadas LED de rua, iluminação de sódio de alta pressão, postes giratórios de alumínio, lâmpadas solares, lâmpadas de jardim, lâmpadas de jardim e luzes arquitetônicas. Eles são usados ​​na rodovia, estrada, pista, expresso, pátio, jardim, campi universitários, corporações e túneis. Há 320 funcionários dedicados trabalhando em nossa empresa. Nossas fábricas cobrem a área de 67.000 metros quadrados. CHENXU® é um dos poucos excelentes agentes que podem obter Qualificação de Projeto de Classe A, Qualificação de Instalação de Primeiro Grau e Certificação de Engenharia de Classe A de Arquitetura Intelectual na China. Além disso, a CHENG XU participou no estabelecimento do Critério Técnico para a Iluminação Exterior Solar e é um dos criadores do Solar Industry Industry Standard. Desde 2003, a CHEN XU® fabrica mais de 50.000 sistemas de iluminação exterior confiáveis ​​e econômicos para os clientes que vêm de mais de 60 países e regiões. Nossos experientes funcionários de P & D, equipamentos avançados, rigorosos testes de qualidade e o sistema de gerenciamento de som estão comprometidos em fornecer aos nossos clientes as soluções consideráveis ​​de iluminação LED e iluminação externa de alta qualidade. Até agora, CHENG XU obteve a certificação CE, ROHS, avaliação do fornecedor SGS, ISO9001: 2008, ISO4001: 2004 Certificação do sistema de gestão ambiental internacional, Certificação de Compulsão da China (CCC), Certificação Nacional da Sun (pela CGC). No futuro, a CHEN XU® continuará a insistir na filosofia empresarial orientada para os clientes. A satisfação dos clientes é o nosso principal objetivo.
Nome da empresa: Jiangsu chengxu Electric Group Co., Ltd
representante: Hao huiding
Produto / Serviço: Lâmpada LED , Iluminação pública , Pólos de rua giratórios de alumínio , Luzes de rua solares , Lâmpadas de mastro alto , Luz do jardim
capital: CNY 104,080,000 Only
Ano de Fundação: 2003
Volume anual de vendas (milhões EUA $): US$5 Million - US$10 Million
Porcentagem de exportação: 41% - 50%
Volume de Compra Anual Total (EUA $ Milhões): Below US$1 Million
N º de Linhas de Produção: 5
Número de Funcionários de I&D: 11 -20 People
Número de Funcionários QC: 11 -20 People
Serviços OEM Desde: yes
Tamanho da Fábrica (metros Quadrados): 5,000-10,000 square meters
Localização da Fábrica: Tianshan Industrial Zone, Gaoyou city, Yangzhou city, Jiangsu province, China.
Pessoa De Contato: Ms. Rachel
Número De Telefone: 86-0514-85085265
Enviar e-mail para este fornecedor